Epiphone casino
Epiphone mb-200 banjo
Epiphone el-00 blues parlor guitar
Shure kick drum mic....


This is a fantastic 2001 Epiphone Casino. 2001 was one of the best recent years of production for this model. The finish is much warmer (read: more "blonde" ) than the newer Chinese Casinos which look and sound very sterile IMO. You can't go wrong with one of these guitars. They are lightweight and easy to play. The guitar stays in tune quite well due to the new tuners that were installed on the guitar. No dings on this one, the neck and frets are in great shape. It's had very little play time. I'm going back to school and the economy has left my finances drained so some toys sadly have to go. I promise this guitar is in great condition and has been used lightly by Gemini Cricket only! $575 obo. The new ugly models go for $699 now, YUCK! Price is negotiable. I need to sell fast, gotta buy textbooks!

To hear the guitar in action go here:
http://www.myspace.com/geminicricketband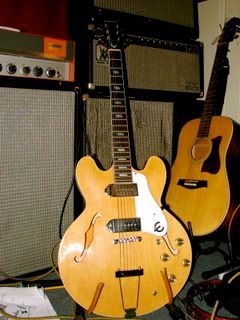 I bought this while on tour last summer. It's a super fun banjo in perfect shape. It's been out of the hard shell case less than 10 times. I've not had the time to dedicate to the thing beyond simple strumming and old standards. It would be better off in the hands of someone who needs it. Banjo comes with a really col strap, brand new hard shell case, chord sheet and a few song sheets. The eagle on the back looks super cool. All spots in the picture are flash/light glare. This thing is spotless!

$275 Price is negotiable. These go for no less than $250 brand new w/o extra goodies!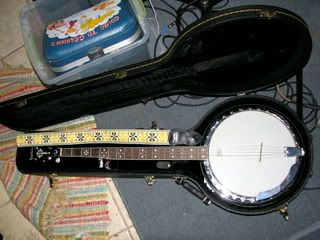 This is a brand new Epiphone El-00 blues size parlor style acoustic guitar. If you are unfamiliar with parlor guitars, they are smaller 15/16 scale acoustic guitars that were popular among blues players in the early 20th century. This thing sounds AMAZING tuned down low for blues. I love this guitar but I have two acoustics and one must go. I put brand new strings on it and it's ready to go to a new home! This guitar is the Epiphone version of the Gibson Robert Johnson blues model. The sunburst on this guitar looks excellent (much better in person). I replaced the plastic end pins with wooden end pins with abalone inlays and it also has Grover enclosed tuners for better stability when tuned LOW. I bought this guitar in MIssissippi and it even smells like the blues! $250 obo!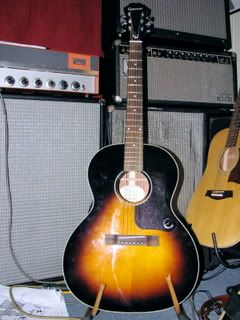 This is the Shure PG-52 kick drum microphone. Great for mic'ing bass drums, floor toms and bass cabs. I've used this sparingly in my house for about a year. I don't use it much and I need some $$ so it must go. I used it mainly for recording purposes. This is the same kick drum mic used by many music clubs. Caledonia Lounge relies on this same model microphone for their excellent sound system. They've had theirs for years and swear by it! If you're looking for an inexpensive drum mic for home recording our live applications this is the deal for you! $120 new or $65 obo from me!





please e-mail gemcric@gmail.com if you have any questions!